Tissue Expanders | Rectangular Shape
Rectangular Base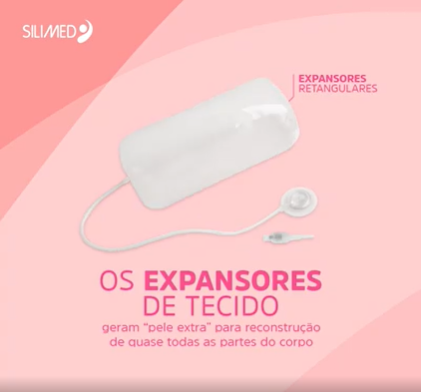 Description:
Its indications are multiple, ranging from post-mastectomy breast reconstructions to the correction of burn sequelae, through baldness surgery, facial tumors and revision of scars in general.
Characteristics:
It does not affect or alter the color, texture, vascularity and innervation of the tissue that has been expanded
Allows better planning and monitoring of the restoration
It ensures a more natural, safe and comfortable result for women
Available Valves:
Adult Round
Children's Round
Luer Lock ROUND VALVE
It has an internal stainless steel disk to prevent the needle from passing through and facilitate radiographic location. Base diameter: 34mm (adult); 22mm (children) Height: 11mm (adult); 8mm (children's) LUER LOCK VALVE
Valve with threaded fitting for direct connection to the needleless syringe. It has a sealing system that automatically prevents the output of liquid when the syringe is disconnected.
Silimed tissue expanders are made of a silicone elastomer membrane.
They are available with 3 valves, adult and child round and luer lock.